Featured Restaurants
Jai Ho Indian Restaurant is situated at 205 swan street in Richmond, VIC - 3121, Australia. Our restaurant offers services like casual dining, Indian take away, catering and banquets in Melbourne. We serve quality food blended with authentic & delicious taste, which is made with the perfect ingredients, technique and deep-seating. Our experienced & expert chef, Sunita Abbott, has more than 30 years of experience in Indian food and restaurant catering in Melbourne.We also offer Indian food take away and home delivery service for our Indian food lovers in Australia. Jai Ho Indian restaurant is the ideal place to celebrate birthdays, anniversaries and other parties including business conferences & also provides online orders and a table booking for local food lovers in Australia. We love to see you enjoying our excellent food and exceptional customer service. Call us at 03-9078- 7798 to arrange a perfect evening at Jai Ho Indian Restaurant in Melbourne, Australia.
Maharajas Wok is an exciting fine dining restaurant, offering delicious Indian and Chinese cuisine with table service fit for royalty. The up-scale restaurant features a modern ambiance serving unique flavors of Asia with extravagant grace. The restaurant's aim is to consistently offer a valuable fine dining experience featuring exotic food and exceptional service. "Maharajas Wok offers an experience of a feast, a celebration, a home coming, a pleasant encounter in its classic yet contemporary setting, where excellent care in service is second nature.
Sizzle India Indian Restaurant Authentic Indian Food & Tandoori cuisine, Sizzling Tandoori platter & Dum ka biryani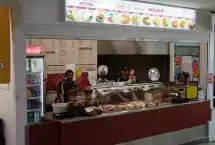 At Chefs of Tandoori Express you will get some of the finest Indian meals in Adelaide while you are on the go, stopping for lunch, afternoon tea or even taking some home after a busy day. We have brought the same passion for the food that we serve from our restaurant in Malvern to the Adelaide CBD. Find us in the Renaissance Arcade off both Pulteney Street and Rundle Mall and try us for yourself. You won't be disappointed.
Whether you dine in or take away our authentic Indian Restaurant will not disappoint and even the West Australian Newspaper describes the 5 Rivers Indian restaurant as "a good find".